The concept I've brewed surrounding these "phantom limbs" of mine will be taking on a more tangible form, by way of 3D papercraft techniques found and developed through research online on the subject. By importing 3D meshes in to a program called Meshlab and simplifying the forms into faceted objects, they can be then imported into another program called Pepakura Designer, where they are unfolded and able to be divided into a printable template.

Due to the nature of this project, however, I couldn't just print them out and hand-cut them. Oh, no. I had to make sure they had the laser-cutter seal of approval -- so I had to trace out the lines in Photoshop so that I could import and trace them in Illustrator in order to achieve the proper vector image format for the assignment. It took approximately 45 minutes to cut each set of parts from three different sheets of 24"x22" matte paper, or about 2.25 hours for all of them.
Powered by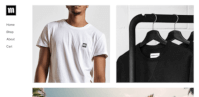 Create your own unique website with customizable templates.